Cutting Tools - Precision Machined From A Variety of Materials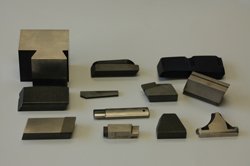 When you need a special-design cutting tool to machine your parts, you want a supplier you can depend on. WMT has been manufacturing high-quality tooling since our first day of operation.
We have the capability of manufacturing high speed steel as well as solid carbide and carbide tipped designs.
Grind type serrated blades
Carbide tipped blades
Helical blades
High speed steel blades
Form tools

Dovetail tools
Special inserts
Tool holders
Boring bars
Tool bits